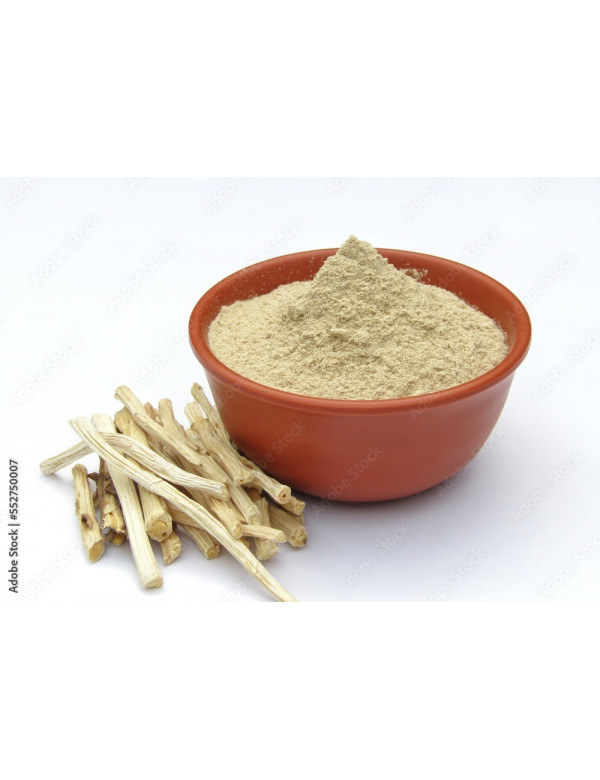  
Organic Shatavari Powder
Shatavari also known as satavari or satavar is an Ayurvedic herb used for centuries in traditional Indian medicine. Shatavari powder is made from the dried root of Asparagus Racemosus and is commonly added to foods or beverages
In Ayurvedic medicine, shatavari is considered a rejuvenating herb and is used to support overall health and well-being. Particularly known for its ability to support female reproductive health, as it is believed to help regulate menstrual cycles, reduce symptoms of PMS, and improve fertility.
Also known for improving digestion, boosting immunity, reducing inflammation, and supporting the nervous system. It is often used as an adaptogen, helping the body cope with stress and reduce anxiety.
One of the key components of shatavari is saponins, which are thought to have anti-inflammatory and antioxidant properties supporting a healthy immune system.

Suggested Use:
½ teaspoon, once or twice daily, with warm water or milk with honey
Certified organic
Security policy
Delivery policy
Storage: Thanks to our packaging can be stored anywhere at room temperature, clean and dry, away from direct sunlight.
Note: Do not exceed the recommended daily intake. Food supplements are not a substitute for a balanced and varied diet, and a healthy lifestyle. Please consult with your health care practitioner prior to the use of this product if you are pregnant or nursing, taking medications, or have a medical condition. Keep out of the reach of children.
Nutritional information per 100 g
Energy

1255 kJ/310 kcal

Fat

0,38 g

-of which

saturated fatty acids

0,16 g

Carbohydrates


66,90 g

Protein

5,60 g

Salt

1,40 g

 
Ayurvedic Energetics:
Rasa (taste): bitter, sweet
Virya (action): cooling
Vipaka (post-digestive effect): sweet
Doshas (constitutions): Balancing for vata and pitta, may aggravate kapha in excess