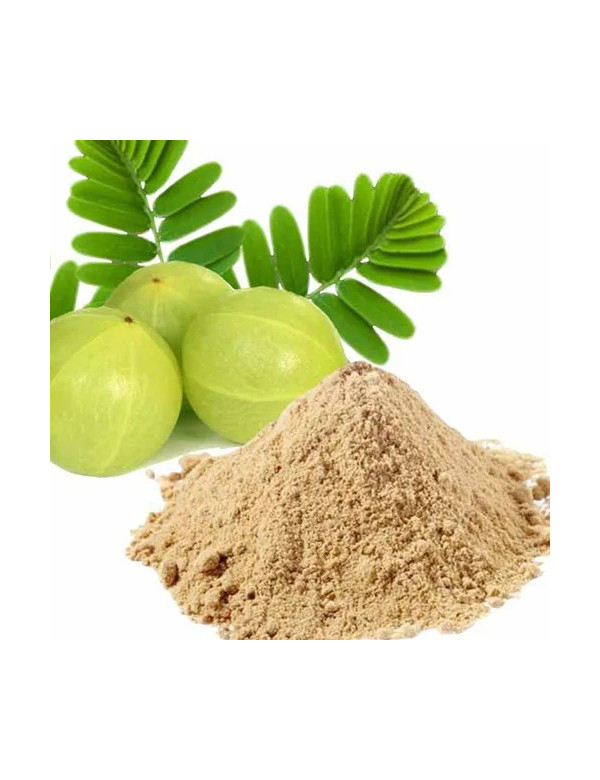  
Organic Amla Powder
Organic amla powder (Indian gooseberry), is a highly prized herb in Ayurveda.
Amla powder is an excellent source of vitamin C, containing more of it than oranges. Vitamin C is an important antioxidant that can help to protect the body against free radicals and oxidative stress supporting the immune system. It can help to strengthen the body's natural defenses and protect against infections and diseases.
Amla powder is traditionally used in Ayurveda as a digestive tonic. It helps promote healthy digestion stimulating the production of digestive enzymes. Known to have anti-inflammatory properties, which can help to reduce inflammation in the body and alleviate symptoms of conditions such as arthritis.
It pacifies all three doshas of vata, pitta, and kapha, though it is especially calming to pitta. In Ayurveda's language of energetics, amalaki is said to have a rasa (taste) that is primarily sour, as well as sweet, pungent, bitter, and astringent.
Recommended intake: 2-5 g Amla powder per day
Security policy
Delivery policy
Storage: Thanks to our packaging can be stored anywhere at room temperature, clean and dry, away from direct sunlight
Note: Do not exceed the recommended daily intake. Food supplements are not a substitute for a balanced and varied diet, and a healthy lifestyle. Please consult with your health care practitioner prior to the use of this product if you are pregnant or nursing, taking medications, or have a medical condition. Keep out of the reach of children.
Nutritional values per 100 g                  

Energy

322 kcal/ 1347 kJ

Total fat

 1,00 g

-of which saturated fatty acids

0,10 g

Carbohydrates

63,60 g

-of which

sugar


8,40 g

Dietary fiber 


58.8 g

Protein


1,30 g

Salt

0,00 g
Ayurvedic Energetics:
Rasa (taste): sour, sweet, pungent, bitter, astringent
Virya (action): cooling
Vipaka (post-digestive effect): sweet
Doshas (constitutions): Balancing for all doshas, especially pitta