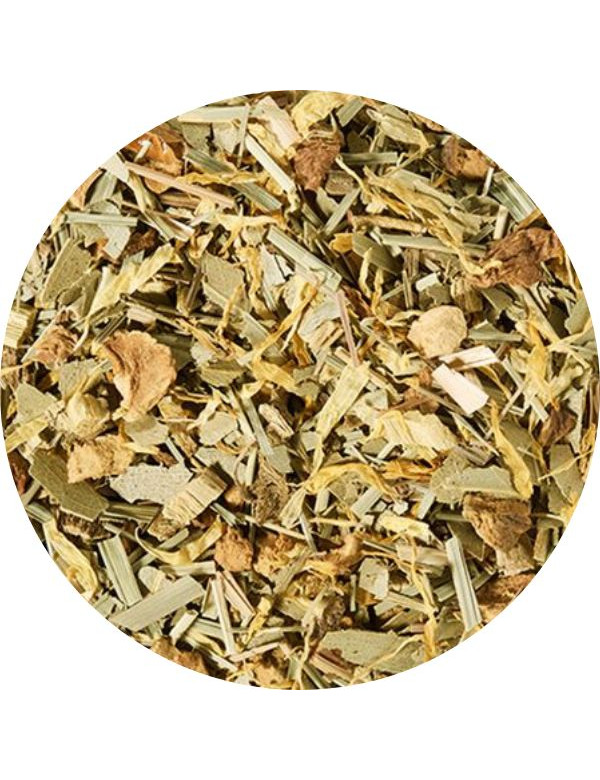  
Spiritual Balm Organic
In Ayurveda, this loose tea blend is considered to be tridoshic, meaning it balances all three doshas or energies in the body (Vata, Pitta, and Kapha). It is believed to be especially beneficial for those with a Kapha constitution, as it can help to alleviate congestion and improve digestion
An organic loose leaf tea packed with antioxidants and has antimicrobial and anti-inflammatory properties that is used to aid in digestion, boost immunity, and reduce stress and anxiety
A flavorful and healthful addition to your daily routine if you are looking for a natural way to support respiratory health, digestion, and overall well-being
Contains liquorice root - avoid excessive consumption in case of high blood pressure
Certified organic.
How to prepare:
quantity: 12 - 15 g/l (1 tsp per cup)
temperature: 100 C
brewing time: 5 to 10 minutes
Multiple infusion: no

Food pairing: Fruit salad; cheese platter; spicy foods; apple pie, vanilla ice cream; grilled meats (chicken, beef, or pork)
Security policy
Delivery policy
Ingredients:
eucalyptus leaves*, lemon grass*, apple pieces*, liquorice roots*, marigold blossoms*. * from organic cultivation
Liquorice root has potential to raise blood pressure. Please consult with a healthcare professional before using, especially if you have any pre-existing medical conditions or are taking any medications.