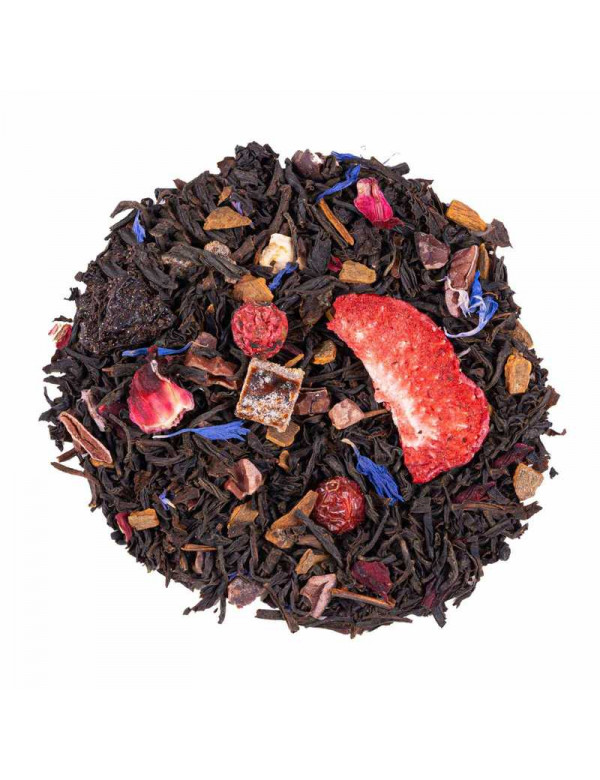  
Cozy Moments
Taste: Chocolate - Strawberry
The base of this Loose Leaf Tea is the Black Assam which is known for being a powerful antioxidant, anti-inflammatory and immune-modulator. In addition to that we put hibiscus that is said to lower systolic and diastolic blood pressure, reduce bad cholesterol levels and increase good cholesterol levels.
All that comes in a wonderful loose leaf tea with chocolate and a hint of strawberry that will make you smile with every sip.
How to prepare:
quantity: 13 g/l (approx. 3g per cup)
temperature: 100 C
brewing time: 3 to 5 minutes
Food pairing: Simply wonderful with a splash of milk and a drop of honey or xylitol and goes great with scones, sponge cakes, carrot cake, light deserts and don't hesitate to try it with chocolate, you will not be disappointed.
Security policy
Delivery policy
Ingredients: Black Tea Assam, -South India, cinnamon sticks, cacao nibs, date (date, rice flour), natural flavoring, sour cherry, hibiscus, strawberry, redcurrant, cornflower blue. Premium blend with ingredients from sustainable cultivation and natural flavorings.