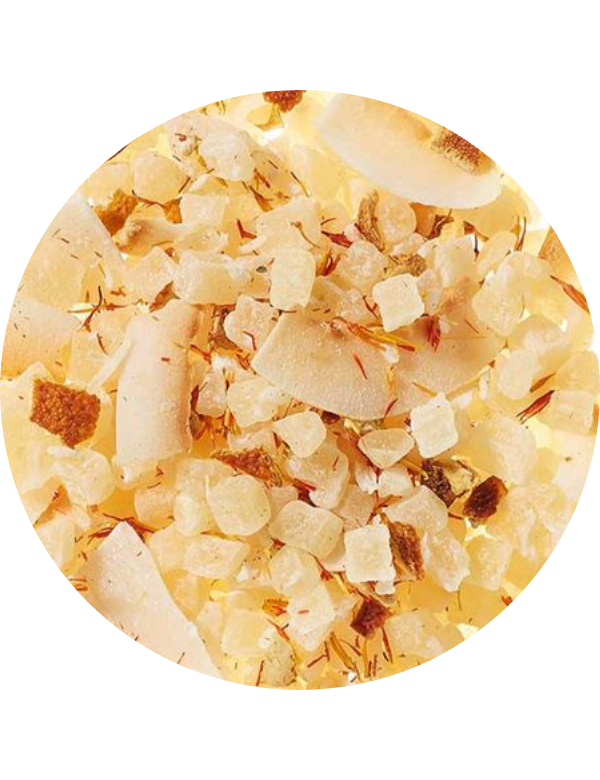  
Dancing fruit
Tropically fruity and bright yellow!
A mixture that radiates a good mood based on sweet fruit pieces of exotic yellow pineapple and trendy, bright white Aloe Vera.
The coconut doesn't want to miss the cheerful fruit dance and joins the dancing crowd rhythmically with slightly nutty, creamy moves. The lime`s lively notes round off the mixture perfectly with a pleasant fresh kick
You will love this tea, and more importantly it's a great way to keep kids happy, even the ones that say "I don't like tea"
Certified organic 96,5 % of the ingredients natural coconut-lime-aloe vera flavoring
How to prepare:
quantity: 1 tablespoon per cup
temperature: 100 C
brewing time: 10 to 12 minutes
Multiple infusion: could hold a second
Food pairing: delicious on it's own but try it with sponge cake
Security policy
Delivery policy
Ingredients: pineapple cubes (pineapple, sugar), candied aloe vera (aloe vera, sugar), orange peel, roasted coconut flakes, natural flavoring, coconut flakes, safflower.
Important: Always brew with boiling water and let infuse for 10 to 12 minutes