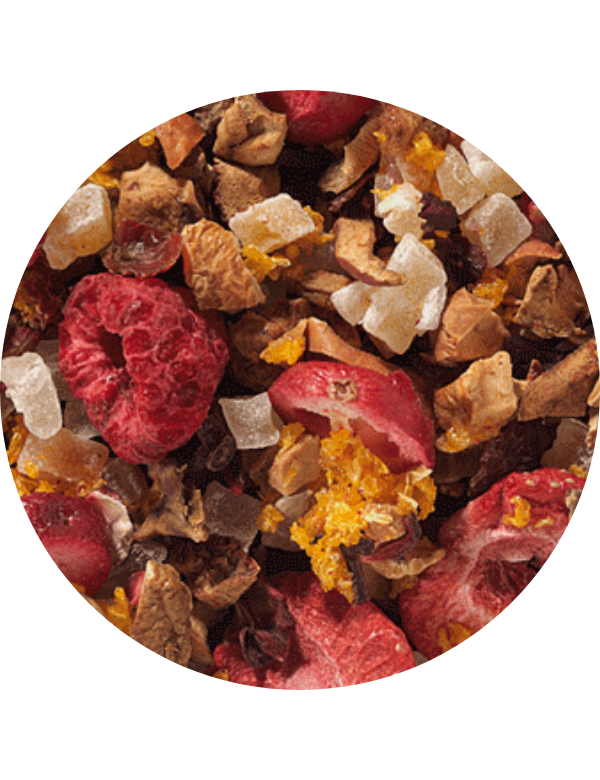  
Fruits Only
An extravagant fruit tea blend for lovers of unflavored varieties: apple pieces and exotic fruits represent the sweet base, citrus fruits and a touch of hibiscus yield a softly fresh aroma.
An impressively juicy experience with just the right touch of "body" and an explosion of vitamins.
Kids love it but avoid giving it to babies younger than 12 months due to the high amount of manganese in hibiscus
No added flavoring
How to prepare:
quantity: 1 teaspoon per cup
temperature: 100 C
brewing time: 10 to 12 minutes
Multiple infusion: could hold a second infusion
Food pairing: delicious on it's own but try it with light deserts
Security policy
Delivery policy
apple pieces, pineapple cubes (pineapple, sugar), papaya cubes (papaya, sugar), mango cubes (mango, sugar), freeze-dried tangerine-orange pieces, rose hip peel, hibiscus blossoms, freeze-dried whole raspberries, freeze-dried strawberry slices, freeze-dried cranberry slices.
Important: Always brew with boiling water and let infuse in order to obtain a safe beverage!