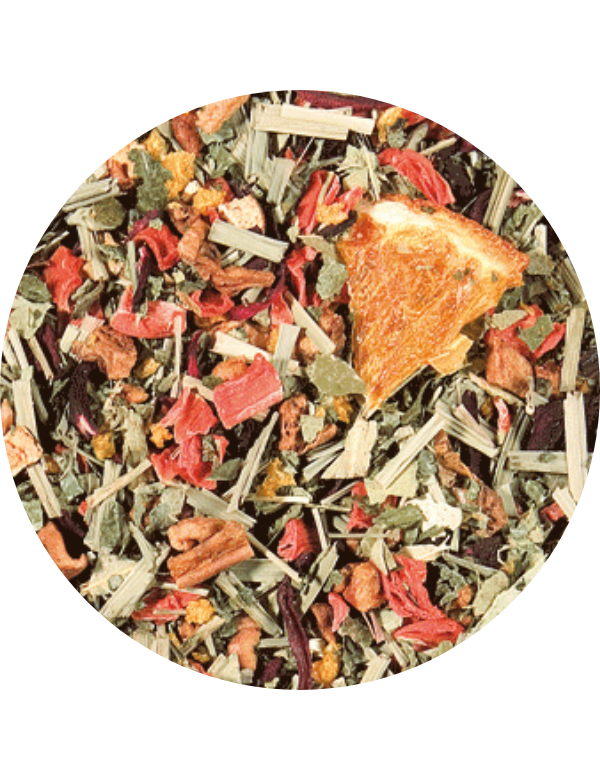  
Orange/Grapefruit
This mild creation is given fruity sweetness by apple pieces and carrot flakes and a touch of freshness by eucalyptus leaves, lemon grass, tangerine bits and a nuance of hibiscus. Beetroot pieces lend their colour to the cup along with a slightly earthy note. Dried orange slices are an optical reminder of the fresh citrus flavour of this absolutely perfect composition.
How to prepare:
quantity: 1 tbsp per cup
temperature: 100 C
brewing time: 5 to 10 minutes
Multiple infusion: no
Food pairing: fresh fruit, such as oranges, tangerines, and grapefruit, fresh green salad with a citrus-based dressing, or a salad with roasted beets, goat cheese, and walnuts, light sandwich, such as turkey and avocado or cucumber and cream cheese, roasted or grilled vegetables, such as sweet potatoes or beets, Dark chocolate
Security policy
Delivery policy
Ingredients:
apple pieces, carrot flakes, blackberry leaves, eucalyptus leaves, beetroot pieces, hibiscus blossoms, lemon grass, flavoring, freeze-dried tangerine-orange pieces, orange slices.