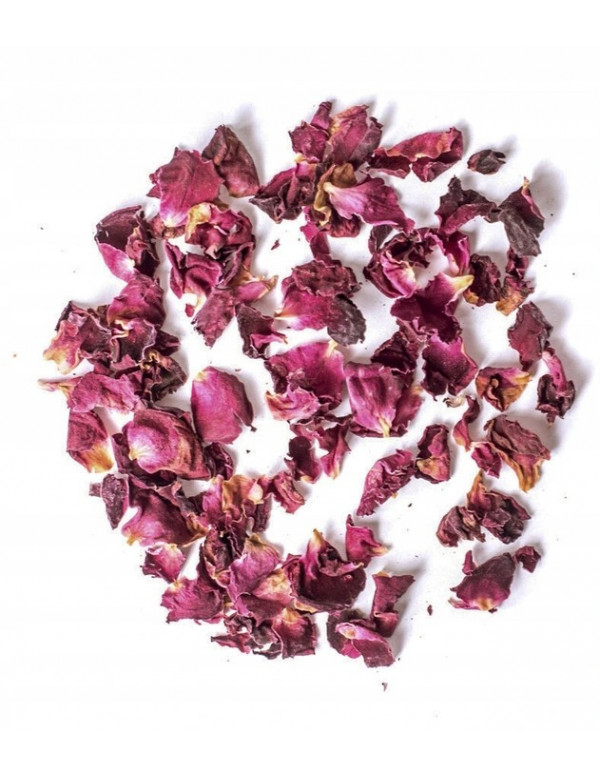  
Rose Petals
Rose petals contain polyphenols, antioxidants protect your body from cell damage. The polyphenols in rose tea have been shown to reduce the risk of heart disease, diabetes, obesity, and cognitive disease but also help alleviate menstrual cramps and reduce inflammation.
The natural sedative property of rose infusion makes it a wonderful beverage to finish a night.

Rose tea contains high amounts of Vitamin C, an antioxidant vital to our body's healing process and its ability to fight off infection.
Certified organic
How to prepare:
quantity: 1 teaspoon per cup
temperature: 100 C
brewing time: 5 minutes
Multiple infusion: no
Food pairing: Rose petals are most commonly associated with Middle Eastern dishes, Turkish delight, and go beautifully with saffron, honey, dried apricots, cardamom and coffee
Security policy
Delivery policy
1. Reducing Anxiety. A cup of rose tea can help to soothe anxiety and reduce stress. Studies show that rose petals can have a relaxing effect, helping to lower stress levels and encourage sleep. Rose petals are often included in flavored tea blends that contain anxiety-fighting l-theanine, or soothing herbal blends with other therapeutic ingredients like lavender and chamomile.
2. Improving Digestion. Rose petals have been used for centuries as a digestive aid in the Middle East, and have been shown to help improve digestion and soothe pesky stomach troubles. When consumed as a tea, rose petals have a mild laxative effect that can help everything go smoothly when it comes to digestion.
3. Soothing Menstrual Cramps. Suffering from period pain? Rose tea can help to provide relief from cramps during that time of month. Studies show that rose tea has a soothing effect when it comes to both physical and mental period symptoms, making it a great alternative to painkillers or other over the counter medicine.
4. High in Antioxidants Both rose petals and rose hips are high in antioxidants. Antioxidants help to ward off harmful free radicals and promote cellular health within the body. They can also help to prevent degenerative diseases like cancer. If youre looking to up your antioxidant intake, you cant go wrong with a cup of tea!
5. Contains Antimicrobial Properties. Rose petals contain antimicrobial properties that can help to protect you against harmful bacteria. This means that a cup of rose tea can help to boost your overall health and wellness and ward off harmful microorganisms before you get sick.
6. Reducing Inflammation Rose flower extract has also been shown to help reduce inflammation. Whether you are suffering from chronic inflammatory conditions like arthritis or just need help soothing temporary pain, rose tea can help to lessen the symptoms of inflammation.