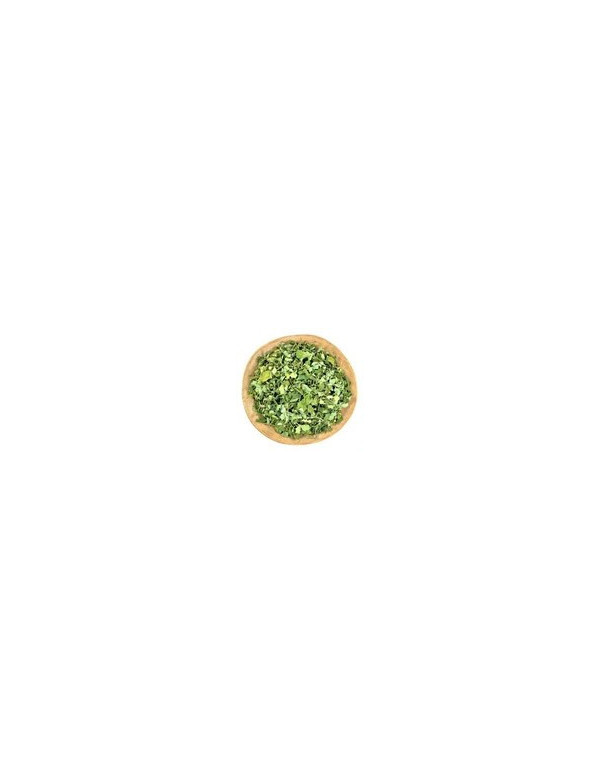  
Moringa
The leaves of the moringa tree contain several compounds that can stave off chronic disease. These substances include polyphenols, tannins, saponins, and others. Besides combating heart disease, liver damage, and diabetes, these compounds also fight chronic inflammation.
Consuming moringa tea every day may lead to modest reductions in blood sugar and cholesterol levels. Moringa leaves are highly nutritious and can be consumed everyday which proves to be highly beneficial for people who are lacking in essential nutrients.
Certified organic
How to prepare:
quantity: 1 teaspoon per cup
temperature: 100 C
brewing time: 3 to 5 minutes
Multiple infusion: no
Food pairing: Drinkable soups, Komucha, plant-based dairy, hot, spicy and tangy flavors

Security policy
Delivery policy
The content of all kinds of health-promoting substances that can be found in this tree is enormous.
The powdered leaves provide the body with the right dose of antioxidants, anti-inflammatory compounds and amino acids. The powdered leaves are also a very high-quality protein, because it is extremely digestible and enriched with fiber.
The amount of 100 grams of dry moringa leaves gives: - 10 times more vitamin A compared to carrots, - 12 times more vitamin C than oranges, - 17 times more calcium than any milk, - 15 times more potassium than in banana fruit, - 25 times more iron than spinach, - 900% more protein compared to yoghurt.
In the regions of the plant's occurrence, it is successfully used for: - asthma - epilepsy, - bacterial dysentery, - dizziness, - parasitic bacteria, - spider and scorpion venom.
Antioxidants: From the 46 antioxidants in moringa, it is worth paying attention to zeatin, salvesterol and chlorophyll.
Zeatin is a substance that ensures that all vitamins, minerals, trace elements and amino acids are absorbed by the body.
In turn, salvesterol belongs to the group of substances called phytoalexins. They are produced by plants in response to infections caused by plant pathogens.
You might also like
herbal
Hibiscus Blossoms
Hibiscus tea has anti-inflammatory, antiseptic and diuretic properties, it is characterized by a high...
herbal
Purple echinacea root
Echinacea tea is a floral, sweet beverage that can help satisfy your sweet tooth and improve mood....
accessories
Tea-Egg Pliers
Tea egg in the shape of a pair of pliers: an easy way to scoop tea, if you let go of the pliers it is...