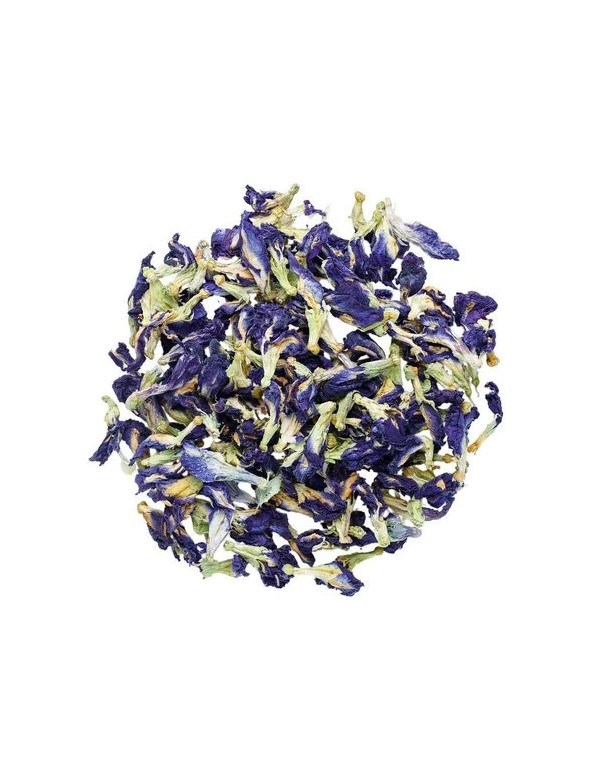  
Blue Butterfly Pea Tea Flowers - Clitoria Ternata
Blue butterfly pea flowers of the Clitoria Ternatea plant, also known as blue tea, which changes to purple with a dash of lemon juice and to red with hibiscus.
It produces a unique scent that resembles earthy and woody notes with a smell similar to tempeh. When steeped, the tea can change its scent to a slightly sour and citric taste, comparable to hibiscus tea.
Has been used in Chinese medicine for centuries. Is known to improve blood sugar control, eyesight, hair and skin health, help with stress, insomnia and weight loss.
Can be used in cooking.
Great served hot or cold with ice.
Condiments: lemon, honey, mint, cinnamon, passion fruit, ginger
How to prepare:
quantity: 1-2 tsp per cup
temperature: 100 C
brewing time: 5 minutes
Multiple infusion: up to 3
Food pairing: blueberry pie, pasta, salads
Security policy
Delivery policy
Ingredients: Blue Butterfly pea whole dried flowers (Clitoria ternatea)
Also known as : Aprajita Phool (Dried flower), Aparajita Flower, Butterfly Pea Flower, Clitoria Ternatea, Asian Pigeon Wings, Blue Bell Vine, Blue Pea, Cordofan Pea and Darwin pea
Uses: Herbal tea, homemade lattes and lemonades, home remedy medicines, Tea Blends, Cooking
The butterfly pea is a plant native to Asia. You may recognize it by its striking, vibrant blue flowers. Its known for its medicinal properties and has been associated with a variety of potential health benefits. It is said this tea cleanses the liver, the kidneys, the intestines and also the stomach. The plant contains several other antioxidants, which have been extensively studied for its cancer-fighting properties.
In addition to using butterfly pea flower to brew a delicious herbal tea, you can use it to make other drinks, such as lattes, lemonades, and color-changing cocktails.
Note - not recommended for pregnant or breastfeeding women
You might also like
herbal
Hibiscus Blossoms
Hibiscus tea has anti-inflammatory, antiseptic and diuretic properties, it is characterized by a high...
wellness
Rooibos Slim Tea Organic
Delicious orange taste The combination between the rooibos (with its rich antioxidant content that...