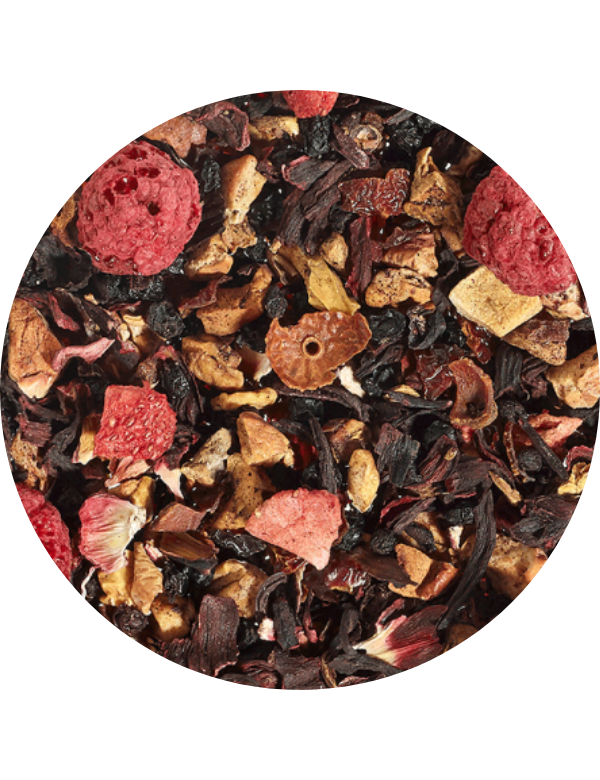  
Strawberry/Raspberry
Delicious and refreshing beverage that combines the sweetness of fruit with the tangy flavor of hibiscus. The bright red hibiscus blossoms and rose hip peel add a beautiful color to the tea, while the apple pieces and elderberries provide a subtle sweetness. The freeze-dried whole raspberries and freeze-dried strawberry pieces offer a burst of delicious fruity flavor that complements the tartness of the hibiscus
How to prepare:
quantity: 1 tbsp per cup
temperature: 100 C
brewing time: 10 to 12 minutes
Multiple infusion: no
Food pairing: fresh fruit salad or a mixed berry tart; for a heartier pairing, the tea would go well with roasted chicken or grilled pork. The acidity in the tea can help cut through the richness of the meat; For a sweet treat, serve the tea with a slice of strawberry shortcake or raspberry sorbet. The fruit flavors in the tea will enhance the dessert's flavors, creating a perfect pairing
Security policy
Delivery policy
Ingredients:
hibiscus blossoms, apple pieces, elderberries, rose hip peel, flavoring, freeze-dried whole raspberries, freeze-dried strawberry pieces.