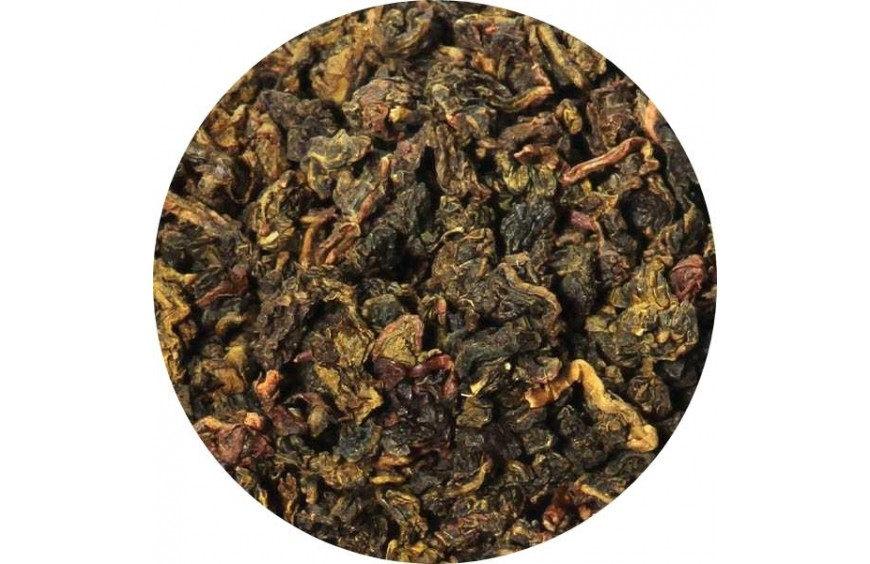 Oolong tea
It's a shame the power of this tea is not yet fully understood. With only 2% of the tea consumed in the world being oolong it is clear that the true value is not known. And yet it combines the benefits of both green tea and black tea in one single cup.
Translated from two words ( "Black" and "dragon") that describe the shape of the oolong leaves in their novel state, this tea goes through a uniquie semi-oxidization process that ranges from 1% to 99%. Shortly after picking, the leaves are withered and semi-oxidied in the sun then shade dried. After this they are basket-tossed to break down the cells on the surface of the leaves and wok-fired halting the oxidization process. Heating methods include masterfully hand roasting the tea leaves in multiple steps which generally take place throughout the night. Oolongs are often processed over charcoal or wood which gives a unique flavor to the various finishing styles. Finally, the leaves are curled or rolled into crispy shapes that resemble tiny black dragons, hence the descriptive name. Because oolong tea leaves are more mature, they are harvested later in the spring than green or white teas – usually from late April to early May
But enough with the technical stuff. Let's be honest, oolong isn't very known unfortunately and for the complexity that this tea can give you it's a real shame. Let's face it, no category offers more diversity of flavor, complexity and body than oolongs.
Oolongs are the wide, wide category of tea in between green and black,
and through skilled, labor-intensive processing, a tea-maker can coax
anything from buttery florals to deep chocolate to roasted nuts to
tropical fruit out of a single batch of leaves.
First of all for all you out there that are interested to try... here's a tip. DO NOT throw the leafs away after the first brew. Well, don't do that regardless of the tea you are using but we'll go into that at a later stage. With oolong don't do that because it can be re-brewed, and re-brewed,  and ... guess what: re-brewed. Some of the oolongs can even be brewed for more than a dozen times and in the last cup you still have flavor, sometimes different than what you started from. Try same thing with your English breadfast.... you just get colored water with little to no flavor.
That being said let's look at the types of oolongs, most you can find here at TeaCups and our collection is growing constantly.
We look at green oolongs, fresh and fragrant, with a low oxidation level and only lightly roasted.
This are closer to green teas but a kick of oxidation brings out more floral and rich buttery body. There are more types of green oolong, one of my favorite of all times is the creamy milk oolongs that come from Jin Xuan cultivars.