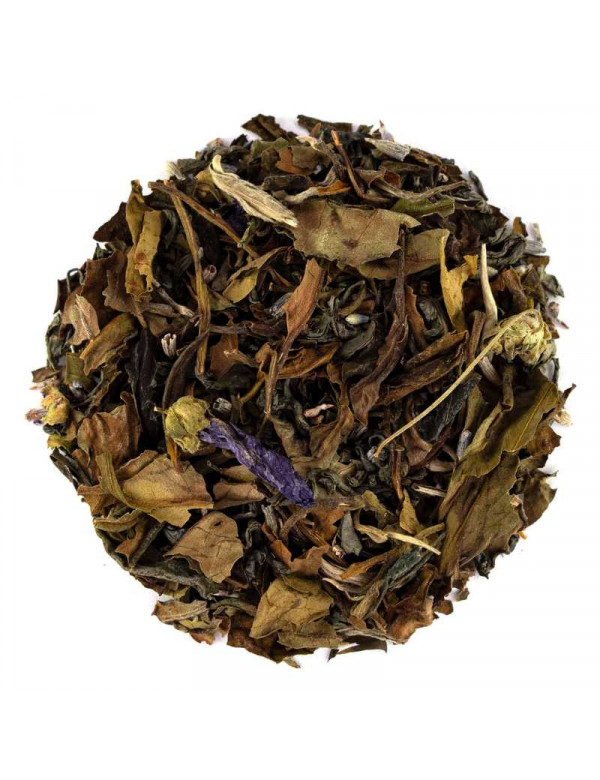  
Purple relax Natural
This White and green organic loose leaf tea come together in a perfect cup of pure relax, perfect for a nice evening after a busy day.

Boosting your metabolism and improving your immune system due to the perfect combination between this two high grade loose leaf teas with the add of lavender to help digestive issues such as vomiting, nausea, intestinal gas, upset stomach, and abdominal swelling. In addition to helping with digestive problems, lavender is used to help relieve pain from headaches, sprains, toothaches, and sores.
Aside all the benefits, this loose leaf tea is a pure delight hot or cold


How to prepare:
quantity: 12-15 g/l (approx. 3g per cup)
temperature: 60 to 65 C
brewing time: 2 minutes
Food pairing:
Its sweet and perfumed flavor pairs well with scones, cream and cookie
Security policy
Delivery policy
Ingredients: White Tea Pai Mu Tan*, Green Tea China Chun Mee*, anise*, lavender*, natural lavender flavouring, star anise*, mallow*, vanilla extract*, natural aniseed flavouring
Research shows it may be the most effective tea in fighting various forms of cancer thanks to its high level of antioxidants. White tea may also be good for your teeth since it contains a high source of fluoride, catechins and tannins that can strengthen teeth, fight plaque, and make it more resistant to acid and sugar.

This variety also offers the least amount of caffeine, making it a smart choice for tea drinkers who want to avoid or limit their caffeine consumption.