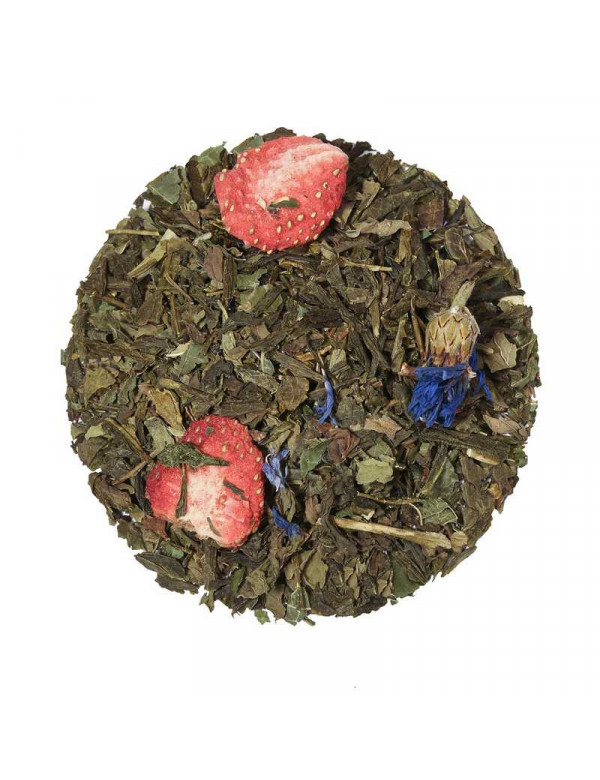  
Strawberry Mint Organic
Top quality Sencha with strawberry and mint taste.
On the center of the stage we have a top grade Loose Leaf Sencha that is known to contain a high amount of polyphenols which are proven to halt cell damage and fend off free radicals, which is said help prevent cancer. Additional benefits of polyphenols include: aiding digestion, weight management and cardiovascular diseases.
This delicious tea has potential to retain a youthful skin and reduce the wrinkles by hydrating the skin. Also has a mood-boosting effect as well as improving your immune system.
Certified organic
How to prepare:
quantity: 12-15 g/l (approx. 3g per cup)
temperature: 75 to 80 C
brewing time: 2 to 3 minutes
Multiple infusion: can hold 2 to 3 steeps
Food pairing: complex desserts, cakes and dark chocolate
Security policy
Delivery policy
Ingredients: Green Tea China Sencha*, spearmint* (7%), blackberry leaves*, natural flavouring (strawberry), strawberry*(2%), vanilla extract*, cornflower blue*, acerola
Certified organic
Brew for 2 to 3 minutes at 75 to 80 C