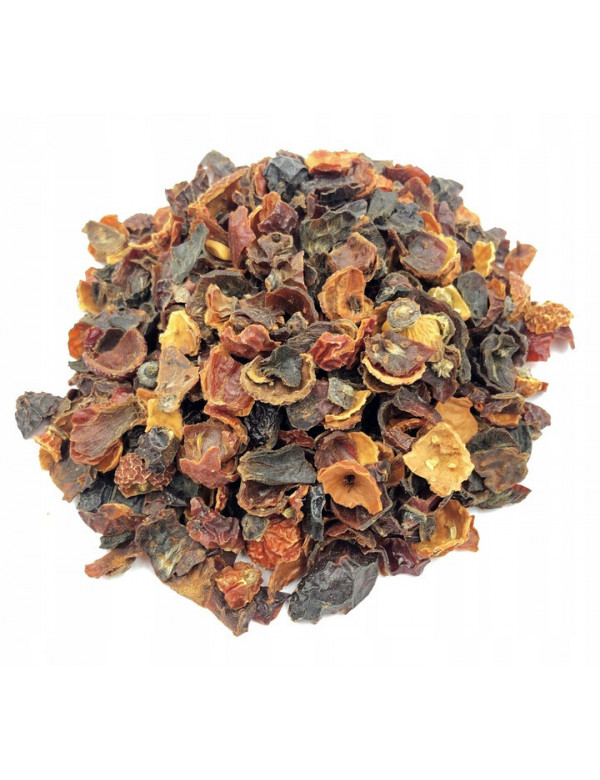  
Rose Hip Peels
While rose hip is often considered a good source of vitamin C, the processing and drying of the plant actually destroys part of it.

People use rose hip for osteoarthritis and pain after surgery.
The phenolic content of rosehip peel tea is high and have been shown to be great for improving immunity, boosting heart health, lower blood sugar, weight loss, and skin aging. It has a delicate, floral flavor that's slightly sweet with a distinct tart aftertaste.
How to prepare:
quantity: 1 teaspoon per cup
temperature: 100 C
brewing time: 1- 15 minutes
Multiple infusion: no
Food pairing: Rosehips Peel is used for herbal teas, jam, jelly, syrup, rose hip soup, beverages, pies, bread, wine, and marmalade. They can also be eaten raw.
Security policy
Delivery policy
Rose hips are rich in antioxidants that can help protect against cell damage from free radicals.
While the exact amount varies by plant, fresh rose hips have been shown to contain more antioxidants than dried ones.
Stimulating the production of white blood cells called lymphocytes, which protect your body against infection, enhancing the function of lymphocytes, helping maintain your skins protective barrier against outside pathogen.
In addition to vitamin C, rose hips contain high levels of polyphenols and vitamins A and E, all of which help strengthen and protect your immune system.
Compared with other fruits and vegetables, rose hips offer one of the highest levels of vitamin C. This vitamin, along with other compounds in rosehip tea, helps strengthen and protect your immune system.
While rose hips contain antioxidants that have been shown to protect against heart disease, more research is needed on the effectiveness of rosehip tea specifically. Some studies indicate an association between rosehip extract and reduced body weight and stomach fat. Rosehip tea is rich in anti-inflammatory compounds, including galactolipids.
Research has shown a link between rosehip extract and reduced arthritis pain. Rosehip tea is rich in compounds shown to protect your skin against aging, including vitamin C and carotenoids.